Barbecue
If you can't have a lobster roll, have some barbecue!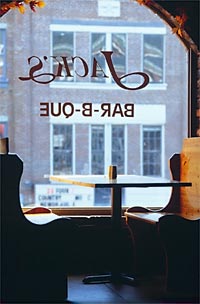 I was never much interested in barbecue growing up until I read De Gustibus, a collection of the columns of New York Times food writer Marian Burrows. She wrote of a restaurant in Stratford, Connecticut (of all places) called Stick to Your Ribs. (It was on Honeyspot Road right off Exit 31 of I-95.) The restaurant was the project of Englishman Robert Pearson, who was obsessed with bringing authentic barbecue to the area. By the time I was able to visit Stick to Your Ribs, Robert Pearson had moved on, and the restaurant was being run by Francina Jackson. (According to this review of Stick to Your Ribs, Robert Pearson opened another location in Queens. I've never been there.) At some point, the restaurant was renamed "A Taste of Texas." The barbecue at this place was a revelation to me. I usually ordered the pulled pork sandwich, which was chopped up right before your eyes from shoulders of pork pulled from the giant smoker in the rear of the restaurant. The sandwiches were served on Portuguese rolls. That may or may not be authentic, but they were a perfect match for the barbecue. Sauces were named for their "heat." There was "mild," "mean," and the hottest of all, "madness." I can still hear Francina yelling over her shoulder after taking my order, "One pork shoulder, mean."
One day, we pulled up to A Taste of Texas to find it had closed. It was a sad day indeed. Since then, I consider the barbecue at Virgil's Real Barbecue in Manhattan to be the closest approach to the fantastic pork Francina served at A Taste of Texas.
Closer to home than New York City is a barbecue restaurant in Ambler, Pennsylvania called Hooley's Rib Joint. They have very limited hours (weekends only, I believe), and they operate out of a secret location (well, not exactly, it's the parking lot of the Ambler VFW). I haven't made the pilrimage myself, but I was invited to a party that featured barbecued beef, pork, and chicken from Hooley's, and it was great!
Even closer to home than Hooley's is a new place that opened in the summer of 2003. It's so close I can walk there. It's called Abner's Authentic Barbecue, and it indeed is the real thing. I am truly blessed to have such fine barbecue so close to home.