Lobster Rolls: Massachusetts
Please note that I stopped updating these pages around 2009, so most all the information is out of date.
I had my first lobster roll ever at a little stand in Gloucester, so I will be forever indebted to Massachusetts for helping me discover the lobster roll. Other than that, I haven't had that many lobster rolls in Massachusetts. Keep in mind that, in Maine at least, McDonald's (yes, the fast-food behemoth) serves an adequate lobster roll, although for $3.99 (what I paid the last time I had one years ago), you don't get a lot of lobster. Still, they are surprisingly good. I'm not sure that McDonald's located in Massachusetts serve lobster rolls, but I wouldn't be surprised.
There are two other chains that definitely serve lobster rolls, neither of which I've tried, however. A reader recommends the Weathervane Seafood Restaurants, a chain with many locations. Another chain to try is Legal Sea Foods with many locations in and around Boston (as well as other cities).
So far, my favorite roll in Massachusetts was from Essex Seafood in 2005.
Barby Ann's
I've eaten at Barby Ann's (120 Airport Rd in Hyannis) quite a few times over the years. I'm no expert, but it's my favorite all-around restaurant in Hyannis. I've had their lobster roll a couple of times, and it's excellent.
Piccadilly Pub
One of the best lobster rolls I've had in Massachusetts is the perfectly fine one found at the Piccadilly Pub (many locations in and around the Boston area. I've been to locations in Auburn and Sturbridge.). The excellent lobster salad is the highlight of their lobster roll; unfortunately, they don't grill the roll as a matter of course. Try asking them to grill the roll for you; they're very accommodating.
Cape Cod Area
I haven't been to the Cape Cod area much, except to catch a ferry to Nantucket or the Vineyard, but there is one interesting lobster-roll destination. It's called the Four Seas in Centerville. Their specialty is ice cream, but they have a tiny food menu which includes not only such delicacies as a peanut butter and jelly sandwich but also a "lobster sandwich," available on either white or wheat sandwich bread. They don't have a grill, so you can't have the bread grilled or even toasted. Being served on white bread, it's an oddball, but delicious nevertheless, and an outstanding value—the amount of lobster meat in their sandwich would not fit in a hot dog roll. Be sure to get there before 2:30 PM when they stop serving food (ice cream is served all day).
In Mashpee, the Raw Bar's lobster roll has a renowned reputation. I look forward to trying it someday.
In North Eastham, the Friendly Fisherman.
Another place I would like to visit is in Provincetown, Clem & Ursie's.
A reader highly recommends Spanky's Clam Shack in Hyannis.
Nancy's Snack Bar, 27 Lake Avenue in Oak Bluffs (Martha's Vineyard).
A reader recommends the Chart Room at Kingman's Marina in Pocasset.
Popponesset Marketplace in New Seabury.
In Dennis, Captain Frosty's Fish and Chips and Sesuit Harbor Cafe.
In Chatham, Chatham Pier Fish Market.
Boston and Environs
Kelly's Roast Beef
Kelly's is a small chain with locations in Danvers, Natick, Revere, and Saugus. We went to the Saugus location (on the southbound side of Route 1 at Lynn Fells Parkway). It got on my list after winning WHDH-TV's Best Lobster Roll 2003.
Kelly's is a mammoth place. Their roll was mammoth, too, and they claim it contains 8 ounces of lobster (twice the typical portion). I can't dispute that; the roll is huge. The roll itself was properly grilled and very good. The salad had little or no dressing—just the way I like it. Unfortunately it was wet and mushy and tasted like salt water so that I almost gagged trying to eat it. Let me not mince words. This was the worst lobster roll I ever had. I couldn't even finish it.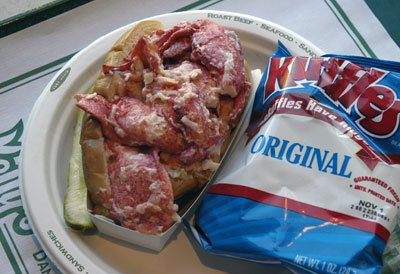 Clearly something is wrong here, since Kelly's has a good reputation. I have to assume that they must have been having a very bad day. It's impossible that the lobster roll they served me could be typical for them, let alone win an award. I'm not eager to go back there, but I would certainly give them another chance, either there or in one of their other locations. My wife ordered a small roast beef sandwich, which I tasted. We both agreed it was great.
In Boston, B&G Oysters, 550 Tremont St.; The Summer Shack (several locations); Neptune Oyster, 63 Salem Street; Rachel's Kitchen, 12 Church Street.
In July 2006, Boston Magazine published a great roundup of 20 Boston lobster rolls written by Erin Byers. Her favorites: B&G Oysters and Neptune Oyster.
In Westborough, JP's Pub.
A reader recommends the Stockyard Restaurant in Brighton.
In Westford (Exit 32 off I-495), Kimball Farm.
North of Boston and Cape Ann
Essex Seafood
Essex Seafood, on Route 133, is a simple, no-frills lobster pound that features a wood-burning stove. There was a faint kind of musty smell to the back room, but nothing noxious. You can eat in or out at the picnic tables in the back, but it was raining the day we went there, so we stayed inside.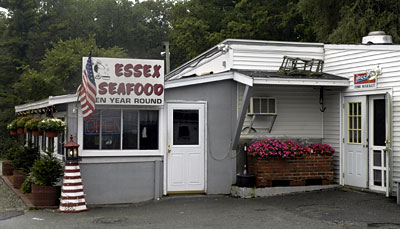 They make a great lobster roll ($13.95) with one fatal flaw—the roll. It was neither toasted nor grilled. I thought the lobster salad was perfect, however, as good as the best I've ever had. The salad was so good, in fact, it made up for the roll. I washed it down with canned lemonade.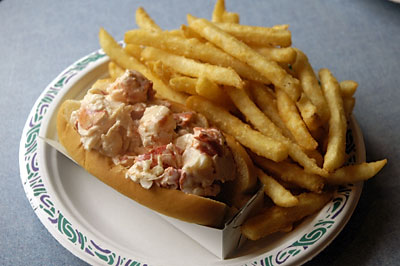 Charlie's Place
We asked some residents of Gloucester who served a good lobster roll. After deliberating, the unanimous answer was Charlie's Place. This is an unassuming restaurant, but they make an excellent roll with the lobster lightly chopped and dressed. I'm sorry I didn't take a picture of this one.
The Clam Box in Ipswich. Although we visited the Clam Box in September, 2005, it was a Tuesday when they were closed. Doh! Always call ahead. The Pushcart in Tewksbury.
South of Boston
In Plymouth, Wood's Seafood.
In Weymouth, Kelly's Landing, based on the roll from the Celebration Town Tavern (see my review under Florida here).
Western Massachusetts
A reader recommends Periwinkles & Giorgio's Italian Pub Restaurant in Auburn. We visited this place in 2005, but they no longer serve lobster or lobster rolls. Our meal was good.
See my list of resources for further ideas. You're encouraged and welcome to recommend your favorite place to me. Send an email to the address at the bottom of this page. —Tony Green