Christmas Carnage
Talk about timing. We happened upon the massacre pictured below moments before police arrived. I can't imagine what horrible weapons could cause such wholesale destruction or the reason for such a senseless loss of "life." So much for peace on earth and good will toward men.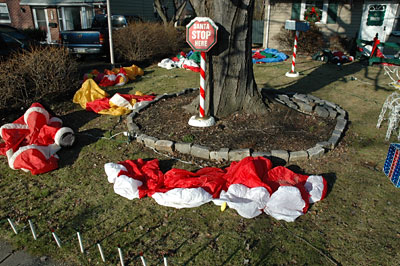 Right after I took this next picture, the police arrived and one objected to me taking pictures of the crime scene. So I did what any citizen journalist would do—I called him a name and then punched him in the face.
But seriously.
We had a wonderful Christmas this year with visits to family and friends that started four days ago on Saturday. Each Christmas seems to tilt the balance more towards the social and spiritual and away from the commercial, and this year I felt like we struck a good balance. We went to church on Christmas eve and that short service was the highlight of the season. I admit that the handbell choir and the standing-room-only crowd helped make the service special. Presents were mostly modest this year, although I splurged and got my brother a GPS.
Today we shared brunch and dinner with dear friends. As much as we enjoy cooking and hosting, it was nice to enjoy a day off without any culinary pressure. And besides, food just tastes better when someone else makes it! Here's a shot from tonight's dinner; it's the schedule our friend Scott (who is an amazing cook) made for the day. I had always heard that it was a good idea to make such a schedule, and next time we host I will definitely be using one. When we hosted Thanksgiving, I was over confident and almost missed some important steps. A schedule would have made for a much less stressful day.
I hope that your holiday was everything you could wish it to be. Merry Christmas to all, and to all a good night.