Have Your Birthday Party at The Waffle House
After just writing about organic produce and lobster rolls, I'm a fine one to talk about the Waffle House, but I'm a simple man with simple tastes, so perhaps you will understand how a meal at the humble Waffle House is one of my favorite treats. Ever since discovering Waffle House restaurants on trips to the southeast US, I have always looked forward to going there. When Anne and I went to Atlanta three years ago, we had the cab drop us off at a Waffle House first before we checked in to our hotel.
So what's so special about the Waffle House? Well, for one thing they are open all night. Coming home from work in the middle of the night (pre-Waffle House), we would often stop to eat at a diner, mainly because that was the only place that was open. Diners have enormous menus, but at that hour I would invariably order breakfast—eggs, bacon, and potatoes. That's what I usually order at the Waffle House (I like my potatoes "scattered and smothered"). Come to think of it, I've never even had a waffle at the Waffle House. (I never order pancakes at the International House of Pancakes, either. What is wrong with me?) Besides being open all night, Waffle Houses serve a mean breakfast. I guess their waffles are pretty good, too...
Waffle Houses have other charms beyond their outstanding cuisine. The staff usually stop whatever they're doing and greet customers as they come through the door. It's corny, but I enjoy it. If you ever wonder what's going on back in a restaurant's kitchen, you won't wonder at the Waffle House. All the orders are prepared right behind the counter. On a busy night, it's quite a show.
Until recently, there were no Waffle Houses around here (Philadelphia), but in the last few years, Waffle Houses have begun appearing in the north. There are three along I-95 between Baltimore and Wilmington, and I've also visited ones in Lancaster and Carlisle. While it's great that I don't have to get on a plane to go to a Waffle House anymore, the closest one is still well over an hour away, so I only visit when traveling in that direction.
When I was younger and hanging out in clubs, I often heard older jazz musicians use the word "grease" as a verb meaning to eat. (It was always pronounced greeeeze.) I can't help but think of this when I eat at a Waffle House, because where better to grease than a place where butter is delivered in freight cars.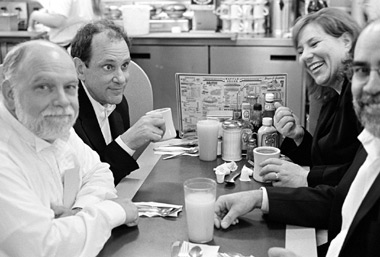 Last Saturday night, we stopped at the Waffle House in Elkton for a little birthday celebration. We all ordered breakfast. One maverick ordered an omelette, but the rest of us ordered a custom breakfast sandwich: a bacon, egg, and cheese on grilled bread (instead of toast). Since that sandwich isn't on the menu, we always have to explain it. "It's like a grilled cheese with bacon and egg." Usually we get what we want, but tonight we weren't so lucky. All four sandwiches arrived on toast. What's more, the potatoes were a little on the raw side. When they're done right, the potatoes kind of mat together and form a cake, but these weren't on the grill long enough. It was the "worst" meal we've ever had at a Waffle House. It wasn't terrible, just not up to their usual standard. There was no birthday cake, but we did play the special Waffle House Happy Birthday song on the jukebox. That made everyone smile.