First Hop Harvest
[Thanks to the economy, I had to lay off the entire editorial staff of mere cat, interns and all, hence the long gap in posting. Although I have a backlog of blog drafts that I hope to turn into actual posts, it's just me doing everything from now on, so I think posting will continue to be light.
A few drafts were devoted to hops. Here's the first. It should have been posted in October. Confound those insolent, indolent interns.]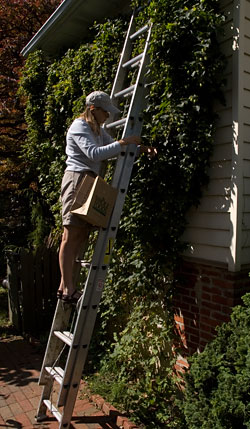 Besides our regular crop of tomatoes (a record 350-odd this year), we (meaning my wife) usually grow other random crops in a corner of our little quarter-acre lot. Some brewing experiments led us to try growing our own hops.
We picked up five hop rhizomes from Keystone Homebrew in early 2008. None did well the first year, but this year our Glacier plant really took off, covering an entire wall. We started harvesting the hops while they were still on the bine, picking the driest ones at first. As novice hop growers, it was difficult to determine when to harvest them. We may have harvested them a little late, but most still seemed green and moist and only just beginning to dry out. We air-dried them briefly and bagged them for the freezer. Below is a picture of about half our harvest. Hops weigh almost nothing, but I think we came close to a pound.