Philly Craft Beer Festival Recap
We had a great time at the Philly Craft Beer Festival yesterday. Whether it was worth $40+ is another story to be explored below, but it sure was fun.
We went to the first of two four-hour sessions (noon and 6:00 PM), arriving at the parking lot around 12:30. There was no traffic at all, and there weren't that many cars in the lot. It was easy to get a seat on the next school bus shuttle to the terminal building. So far, so good. That is, until we arrived at the terminal and got a look at the incredibly long line queued up still waiting to get in. While we were waiting, they announced that the Festival had sold out, so the few people without tickets left the line, disappointed. In the end, it actually didn't take long to get though this line and receive our complimentary 4-ounce tasting glass. We were in and immediately swept into the teeming multitudes.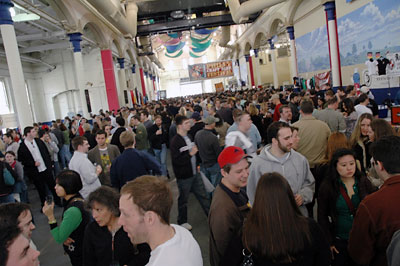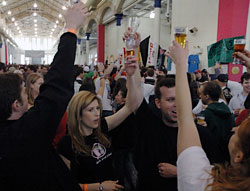 For a few seconds there I was freaking out because of the crowd. I have rarely been in situations with this many people all packed together (despite riding SEPTA every day), but everything turned out just fine. Everyone was polite, there was no rude or rowdy behavior, and everyone was in a good mood. While at first it seemed that getting to the beer was a hopeless case, it didn't take that long at all. All in all, a well-organized event with 1500 really nice people. On to the beer.
Joe Sixpack advised, "Have a plan. Try comparing a specific style - say, pilsener - from different breweries." I'm not a fan of "hoppy" beers, but after a recent favorable impression of Victory's Hop Devil, I decided to compare some pale ales. I tasted:
I confess I couldn't tell them apart. I had a slight preference for Arrogant Bastard and the Yards IPA, but the preference was probably statistically insignificant. Unfortunately, Victory ran out of Hop Devil in the first hour before I could get a sample for comparison. Either pale ales really are all the same, or I lack the sophistication and discernment to tell them apart. I suspect the latter.
Other beers I tried in no particular order:
That's nearly 20 varieties (between the two of us), but we only scratched the surface of the 150-odd beers available. I particularly liked Southampton Double White Ale, Nodding Head Grog, and Victory Golden Monkey, but there wasn't a single beer that compelled me to run out and buy a case the way I did after I tasted Three Floyds Alpha Klaus Xmas Porter, a brew which blew me away. I'm ambivalent about whether I would attend the Festival again, mostly because of the cost. While it was a terrific party and offered an unparalleled opportunity to compare a multitude of beers, the opportunity was always at risk because of the logistics. Beyond some notations on a chalkboard, it wasn't clear what varieties were available from each brewery, and the festival was so crowded it was easy to get swept away from the brewery you thought you were in line for. Because of this element of randomness, comparing beers in an organized way was more difficult than it would be in a well-stocked bar like Monk's. Of course, I could never sample five IPAs at Monk's without passing out. Still I had a lot of fun pretending to be a beer connoisseur and will probably go again next year.
Afterwards, I had hoped to stop by the renowned John's Roast Pork for a roast pork sandwich, but learned they are closed on the weekends. That was a disappointment, but it was the only one in a great day.