Secret Sauce
We've been setting aside some of the tomato harvest (plums and Juliets) to try and make sauce.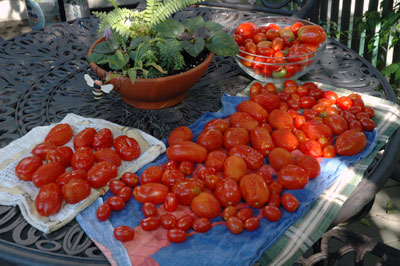 In the past, our homemade sauce has tasted more like tomato soup than tomato sauce. It has a delicious tomato flavor, but tastes nothing like the jar sauce we usually use (Whole Foods' 365 brand marinara) or any other I've tried for that matter. For this attempt, Anne borrowed a Victorio food strainer from a friend.
We ended up with about 7 quarts of tomato juice that was very watery. After adding onions and garlic, we let it simmer for hours. When it was reduced to about 2 quarts, it was still thin, but the texture seemed right. We're wondering does it really take that many tomatoes to make two measly quarts? What's the secret? Anyone? Bueller?