The Vegetable Adventure Begins
I haven't had to work the last two Saturdays and have been taking full advantage of the time off. Last Saturday was the Blogger Meetup, which I believe broke all attendance records. Other than drinking some weird beer that tasted like cherry soda, I had a great time. Following that was a themed party/art exhibit at Ted Adams' gallery. I brought a print which he graciously found room for and a whole mess of Texas shrimp and rice, which couldn't compete with all the amazing edible art the creative people brought. (Look among these pix on Flickr for any tagged "Food Fetish Picture Party") Despite being my usual mild-mannered wallflower self at both events, I still managed to meet and have speech with some really interesting people.
Last night, we made dinner with some "new" vegetables. Thursday evening, while I was at a user group meeting sharing pizza with fellow FileMaker developers, Anne picked up our first "share" of the season, a selection of ten fruits and vegetables from a nearby farm (see Anne's post for details). Anne dug up enough recipes to use all the produce, and last night we made kale with cannellini beans from Deborah Madison's Vegetarian Cooking for Everyone.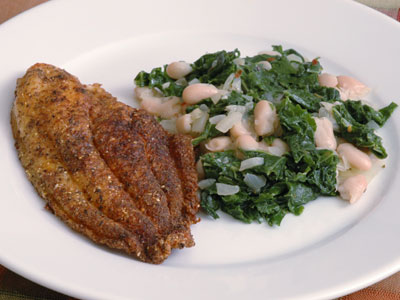 We deliberately chose produce we've never eaten before just for the culinary challenge and adventure of it. For example, I've never tried kale before, having eaten only spinach and collards. Kale is somewhere between these two in flavor and texture and is an interesting alternative. It promises to be an interesting summer experiencing so many new flavors. I think we would be lost without Deborah Madison's terrific cookbook, however. On Friday, we made our first recipe from her book, using homegrown arugula and spinach linguine. Both recipes we've prepared so far have turned out great. If anyone has any other cookbooks slanted towards vegetable cookery to recommend, please let me know. I love cookbooks almost as much as I love food.