When Houseplants Attack...
...they're vewy vewy kwiet. (You were expecting maybe explosions?) Consequently it can be weeks before you realize they've breached your defenses. Here are two terrifying tales from the front lines. The assailant in both cases is epipremnum pinnatum, commonly known to law-abiding citizens as pothos, but in underworld circles as the "marble-leaf ninja." Swift, silent, and deadly. OK, maybe not swift.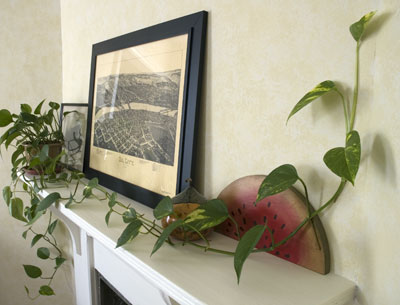 On the right, you can better see how firmly the plant has attached itself. It won't be long before it will be able to make its escape. You can almost hear it boast, "There ain't a pot built that can hold me!"
A friend sent me a link to the picture below. It's an iMac under attack at the University of Minnesota by another pothos. This pothos realized it was hopeless to escape, so it sought revenge by sabotaging the nearby computer. Note the tendrils inside the Mac intent on wreaking destruction. If you have any of these diabolical plants, I urge you to be eternally vigilant. Don't let this happen to you!