Can You Love a Keyboard?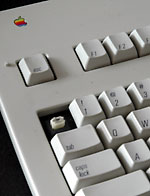 I didn't start out as a keyboard snob. The keyboard on my first computer, a Macintosh Plus suited me just fine. Hey, I didn't know any better.
It wasn't until I went off to college that I found a keyboard I actually liked. The IBM terminals in the library were a dream to type on; they had a marvelous light touch and made a happy clattering racket. It was a long time before I found the equivalent in a personal computer keyboard—and it was for a PC! Arghh. I bought an Avant Prime, which was recommended by Jerry Pournelle, who was quite passionate about keyboards. (It's no longer his favorite, however.) That tank of a keyboard was the one thing that made using a PC bearable. In fact, I took this keyboard to work to replace the spongy nightmare that came with the company-issue Dull.
There was nothing like the Avant Prime for the Mac, but at least Apple's Extended Keyboard II was a fine keyboard that I used happily for years. The Extended Keyboard II was never updated for USB, and Apple's USB keyboards have never come close to the quality of the Extended Keyboard II. My keyboard had lost a couple of keycaps (see photo above), and had a non-functioning option key, so I was excited to learn that Matias Corporation had introduced an updated version of the original Extended Keyboard (which I've never used). They claim it "is built from the same premium keyswitch technology that Apple used in its original Apple Extended Keyboard, widely viewed as the best keyboard Apple ever made." It didn't take me long to decide to get one, but I wondered... Could this be not only better than the Extended Keyboard II, but as good as the Avant Prime? Well, the Matias "Tactile Pro" arrived today, and it is every bit as good as the Avant Prime. I am clattering away on it right now, and it feels great.