Face Time: My First Wet Shave
The first day of "wet shaving" went pretty well. The first shave wasn't really any closer or smoother, but it was a lot more fun. I have a low-maintenance face and never had any problems with irritation or ingrown hairs, so I can't report that wet shaving will cure any issues you might have. I would like to mention, however, that I learned that I have always been shaving the wrong way. Like everything else, it's more about the technique than the equipment.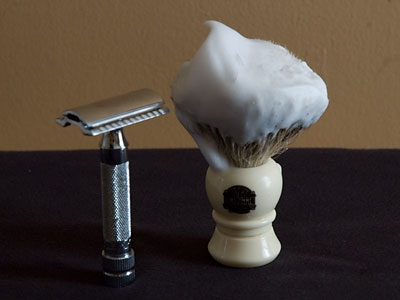 If I had to pick one item from the classic shaving toolset (shaving cream, brush, double-edge razor) that most improved my shave, it would be the cream. The lather you make from this stuff is significantly more hydrated than the canned foam or even what I used to use, Edge gel. I think it's the lather that makes the razor (any razor) work so well. The other factor is technique.
Among the wealth of information I found online was a series of videos on YouTube illustrating the technique of making lather and shaving with a double-edged razor. (Even if you don't care about shaving, the videos are short, entertaining, and just generally well-made.) The principle I learned was to never shave unlathered skin. In contrast what I have always done is make an initial pass, which cut whiskers, of course, but also removed all the lather, and then scrape over the same now-dry area to get any missed spots. The right way is to make one pass over each area and move on. Finish your whole face and then if necessary lather and repeat. The second pass will likely go very fast.