Where's Wilkinson Sword?
They said I can't have anything sharp, but just look at this! Bwah-ha-ha!!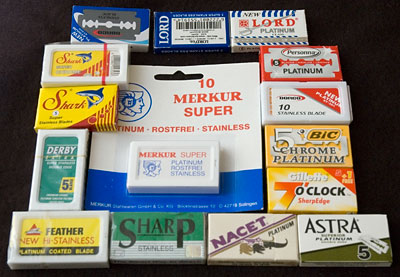 When I started wet shaving in 2008, I ordered a small sampler pack of five kinds of blades from West Coast Shaving, and when they ran out, ordered 100 of the Derby "Extra" blades. It took over two years, but I finally used them all up. I was very satisfied with the Derbys, but was craving a little adventure (I want to be more like the Old Spice guy), so I ordered the "Everything" pack with 15 kinds of blades (but no Wilkinson Sword?!). By the end of 2010, I'll know if the Derbys have met their match.