Darkroom Progress
On Saturday, I stopped by Yo! Darkroom to check it out, not only because I am drawn to darkrooms like a moth to the flame, but also because I might be in the market for some darkroom time, being between darkrooms as it were.
I was extremely lucky to find a practically ready-made darkroom in the house we moved to in 2003. Long before we arrived, the house had been divided into apartments, and the upstairs kitchen was perfect for a darkroom. Eventually the ancient pipes started leaking, and we decided to remodel the room and put in a bigger sink. Things are moving along slowly but slowly...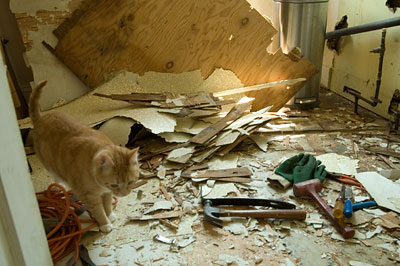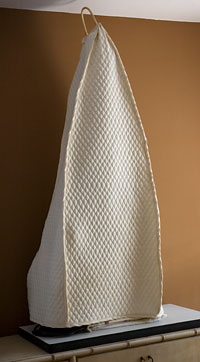 While work "progresses," I tucked the equipment away into various other rooms. The enlarger (an Omega D2, the same model that Yo! Darkroom uses) is parked on a bureau in the guest bedroom. I thought this would be an opportunity to show the handsome enlarger cozy I asked Anne to make. It has a Velcro® closure along one side and a handle to hang it up when not in use. I think it's pretty cool.
I was impressed with the quality of the darkroom at Yo!, and the gallery spaces demonstrate their commitment to building a photographic community. It's quite an accomplishment, and they have only just begun.