ESP
What a weekend. Let me tell you alllll about it.
Friday night I went to the Philadelphia Area AppleScript Users Group meeting. Ben Waldie covered some of the new scripting features in Tiger. I haven't upgraded to Tiger yet, but most of the other attendees hadn't either. After seeing all the new features, I think I will install Tiger sooner rather than later, bugs and all.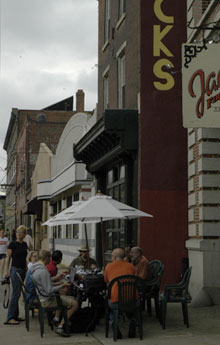 On Saturday Anne and I joined a group of photographers for an outing to the extremely photogenic Eastern State Penitentiary, an historic prison in the Fairmount section of Philadelphia. We convened across the street for lunch at Jack's Firehouse, one of our favorite restaurants. When we arrived, Alec Long, who organized the event, was already there along with Jorj and Susan Bauer. (Jorj and I have so many similar interests I was wondering if we were separated at birth. No, that's impossible. He has hair.)
Alec had gotten us a long table out on the sidewalk. This was an excellent choice all around, especially because we had plenty of natural light for taking pictures! The only way to improve this situation would be if the sidewalk were in Paris.
Lunch was terrific. I had smoked brisket and Anne had catfish. We even saw owner Jack McDavid himself coming and going in a big blue pickup running errands.
I'm not a photoblogger, just an enthusiastic if admittedly inactive photographer. In other words, I'm not sure I "belonged" there, but that didn't seem to matter. I felt like I was among old friends. It was hard to believe most of us had never met before. I am grateful to Albert Yee for inviting me to join this group. By the way, Albert posted links to everyone's site on his blog. Check it out. Some great work there. Perhaps most amazing to me is Justin Smith. At 17, he already has a great eye. That's right, I said 17. When I was 17, I was still sucking my thumb and watching cartoons. These kids today.
The prison itself is massive and immutable not to mention extremely decrepit. I expected it to feel sombre and haunting, but the overall mood was significantly leavened by the large amount of natural light flowing in from the skylights. I didn't feel anyone's "presence" while I was there. Perhaps any ghosts are long gone.
Speaking of ghosts, early in the visit I was surprised to see some ghostly white cats up on the roof. This was my first encounter with the two art installations at ESP. The cats were created by Linda Brenner for an installation called Ghost Cats. 39 white plaster cats are scattered about the grounds, retracing the pawsteps of a colony of feral cats that lived in the prison after it closed in 1971. The installation is dedicated to the memory of Dan McCloud who cared for the cats for 28 years.
Moments later, I could hear a tremendous racket coming from the cell block ahead of me. The noise was from Pandemonium, an installation by Janet Cardiff and George Bures Miller. At first I thought it was electronic, and indeed there were wires leading to the cells, but the wires controlled actuators that struck found elements (furniture and other old junk in the cells) creating a wide variety of sounds. I was enthralled with the effect, the variety of rhythms, and the seemingly infinite combinations of timbres. I forgot I was supposed to be taking pictures.
The photographic opportunities of ESP were a bit overwhelming. About all I did was finish up the roll of Tri-X that was already in the Leica and took about a half roll of slides. Anne took about 40 shots. The slides will have to be developed, but I processed the Tri-X and put Anne's pictures up, too, if anyone's interested. Mine are black-and-white, hers are color. Start here.
We left the prison a little early to meet our friend Jessica for pizza in her new apartment and helped her with some things.
On Sunday morning, I met my friend Ben at a used camera show sponsored by Photorama. Most of the wares were old film cameras, although it looked as if one dealer was selling digital equipment. I don't know who buys this stuff and how all these dealers survive. Of course, being a film devotee, I hope they thrive and prosper.